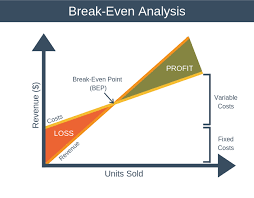 Are you thriving in your business or simply surviving? This is a crucial question to answer, especially as we move through years that are financially challenging. As I mentioned in a prior blog, the rising costs of doing business will always make it more difficult to reach your Break-Even Levels.
Add to this the increase in interest rates and a few additional regulatory items, and suddenly you are facing some genuine barriers to your success. In my last blog, I stated if you measure your costs, you can understand them. If you understand them, you will be better able to control them, and, of course, if you can control them, you can improve them.
Reaching your Break-Even Levels can then become more attainable, but there is even more to this success process than what may be initially obvious. What else can we do to improve your profitability?
Boost your efficiencies. If you can make improvements in your operation by streamlining tasks or even automating them, results can improve. I have several dairy clients who have automated the processes of pushing feed up in front of their cows, using a robot. It's an important job that just, frankly, wasn't being completed often enough. The robot completes this simple process 10-12 times per day, boosting milk production per cow, and never takes a vacation, calls in sick or has a Workers' Comp claim…
Look at potentially cutting unnecessary costs. Are there certain tasks where you find yourself defending the old way of doing things? It is crucial that we look at ways that we may be able to reduce or even eliminate steps without impairing our results. Can some processes even be combined in your operation?
Are there tasks, once again, that can be automated? As we look at the rising costs of labor, or perhaps more significantly, the challenges of even finding enough employees, this is worth looking into. I have another Dairy Client who has automated the process of milking his cows. Installing these robots helped him reduce his labor costs by a substantial amount and will pay for themselves in a relatively short time frame, and that was before the minimum wage & overtime rules were updated for next year. As the minimum wages rises, the pay scale of these skilled workers will increase, too, making the payback of the robots even quicker.
Are you positioned to succeed? Being on your "A Game" requires fine tuning your efficiencies, as discussed above, and then developing a Budget that can help you navigate tough times, any slowdown in the economy and rising interest rates. Measure your Actual Results vs. this Budget, and make the changes necessary. I have seen this process work for my clients for the past 24 years. If I can assist you on this process or in seeking increased efficiencies, please contact me.
Let's take your business to the Next Level!
https://success-strategies.com/wp-content/uploads/IMG_0738.png
198
254
jellsworth
https://success-strategies.com/wp-content/uploads/2019/08/Untitled-3.jpg
jellsworth
2022-11-29 16:43:25
2022-11-29 16:56:50
How Do You Measure Success?