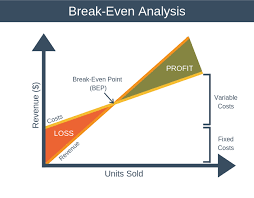 This was the question I was asked when I met with Jerry for the first time. Our discussion was by phone, but I can imagine the look on his face when he asked me this. The question that I had asked him was "What are your Break-Even Levels?"
Surprisingly, this is one of the most important items to know in any business. However, it is also probably one of the least understood concepts. Essentially, it is the Price Level or Cost of Production that needs to be achieved in order to not lose money, if all other variables remain the same.
Looking at the Chart below:
Actual
        
12 Month Totals
Feed Expense/Cow/Day
$ 5.93
Feed Expense/Cwt
$ 9.21
Net Milk Price/Cwt
$ 15.86
Income over Feed Cost
$ 6.65
Breakeven Levels
 Breakeven Levels
Milk Price (Net)
$ 15.54
Feed Expense (cow/day)
$ 6.14
Feed Expense (per cwt)
$ 9.53
Production (#/cow/day)
76.45
This producer is feeding his cows for $5.93/cow/day and has been making money. You can also see that his Feed Expense per cwt is $9.21, which, given his Net Milk Price/cwt of $15.86, provides him with an Income over Feed Cost of $6.65/cwt.
Next, you can see his Break-Even Levels in the bottom half of the chart. If all the other variables stay the same, his Feed Cost per cow/day could rise to $6.14 and he would still break even. We know that he is currently making $0.32/cwt, because we know that this is the amount that his milk price/cwt could decrease ($15.54 minus $15.86/cwt) or his feed cost/cwt could rise ($9.53 minus $9.21/cwt) and still allow him to reach break-even.
What value is there in knowing this? I'm glad you asked. Knowing this will allow him to understand what changes he can make or, in the case of cost increases, what increases he can withstand and still not lose money. This information is also very useful to him in understanding where he may want to set his price floors within programs such as the Dairy Revenue Protection Program. This program, for example, is designed to assist producers to place a profitable floor under their milk price. Knowing your break-even levels is the only way to use this type of program successfully. This is what makes knowing your Break-Even levels so significant. Can I help you with this?
Want to learn more? I'd like to invite you to join me for our upcoming Next Level Thinking™ workshops later this year, within which, I'll continue to focus on the benefits of this type of proactive thinking. We'll be doing this through Zoom Group Sessions.
Let's take your business to the Next Level!
https://success-strategies.com/wp-content/uploads/IMG_0738.png
198
254
jellsworth
https://success-strategies.com/wp-content/uploads/2019/08/Untitled-3.jpg
jellsworth
2021-08-25 13:19:28
2021-08-25 13:19:31
You Want to Know My What?